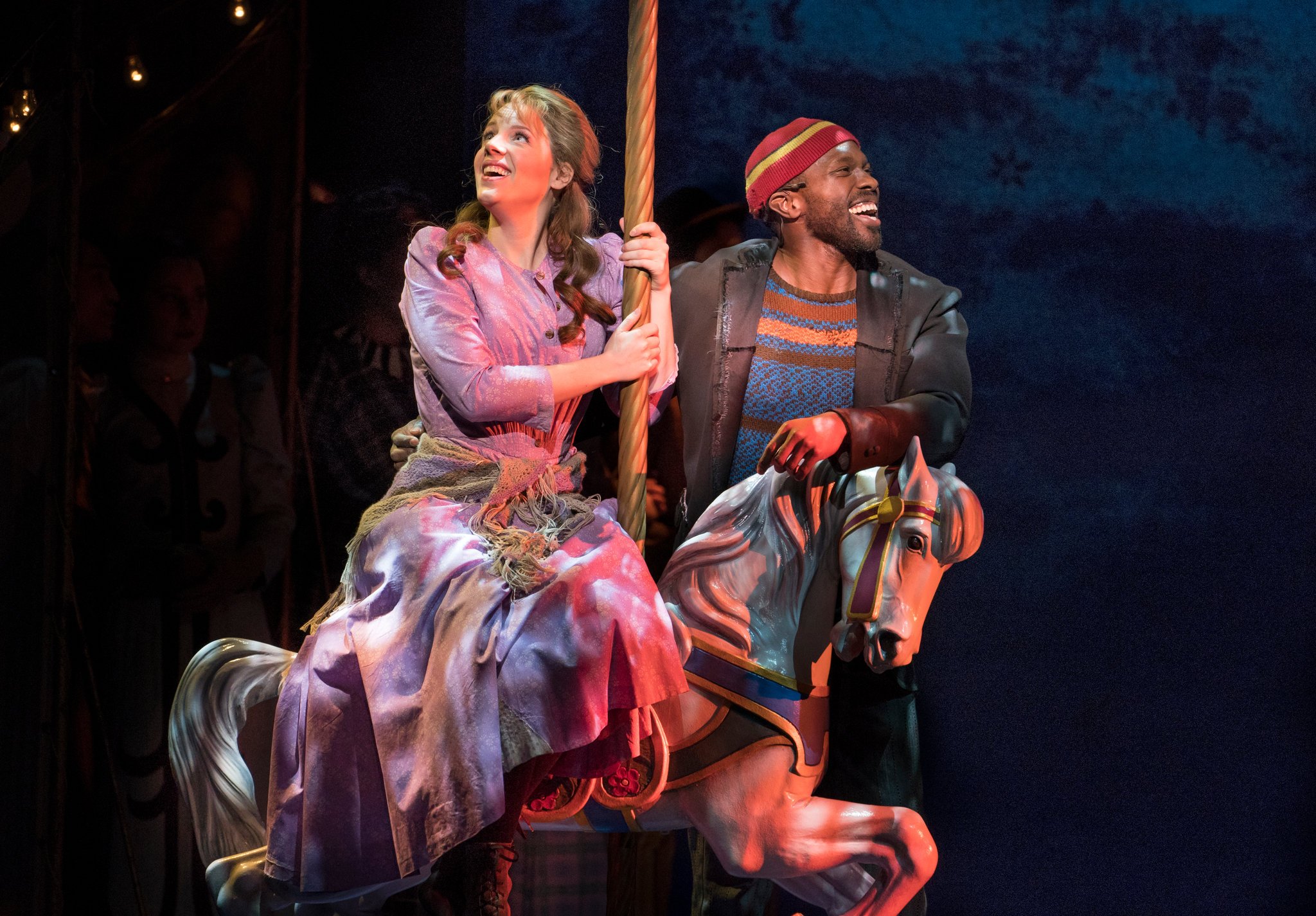 Review: A 'Carousel' That Spins on a Romantically Charged Axis
The New York Times
New York Times, BEN BRANTLEY, APRIL 12, 2018
Blame it on God, or the fates, or — to use the metaphor of choice here — the stars.
But when Billy meets Julie in the heartfelt, half-terrific revival of Rodgers and Hammerstein's "Carousel" which opened on Thursday night at the Imperial Theater, you can tell they've been felled by a force beyond their comprehension or control.
Look at the dazed, questioning expressions on the faces of Billy Bigelow (Joshua Henry), the restless carnival barker, and Julie Jordan (Jessie Mueller), the homebody mill worker, as they sing that greatest of all ballads of romantic ambivalence, "If I Loved You." They're scared, all right, him especially.
You sense that if they do get together — and though they've just met, it's already a done deal — it's going to end in tears, and they know it. But to borrow a lyric from a later song in this ravishingly scored musical from 1945, "What's the use of wond'rin'?" Erotic attraction, as cruel as it is transporting, is not to be denied.
The tragic inevitability of "Carousel" has seldom come across as warmly or as chillingly as it does in this vividly reimagined revival. As directed by Jack O'Brien and choreographed by Justin Peck, with thoughtful and powerful performances by Mr. Henry and Ms. Mueller, the love story at the show's center has never seemed quite as ill-starred or, at the same time, as sexy.
Both sides of that equation are given equal weight in this probing production, which takes the liberty of beginning not on the grounds of a carnival in Maine, as is customary, but in heaven, where destinies are foreseen. Clearly, this is not going to be a gritty, social-realist "Carousel" in the vein of Nicholas Hytner's benchmark London-born incarnation, which came to Lincoln Center in 1994.
Instead, Mr. O'Brien and Mr. Peck (and director and choreographer justly receive equal billing here) are taking a really long view — as in cosmic — of one short, fraught relationship. A celestial character named the Starkeeper (the great Shakespearean actor John Douglas Thompson) assumes new visibility throughout, taking on the role of Billy's angelic supervisor.
But don't worry that flesh and blood will not be given their due. Julie and Billy may be mere mortal specks in a divine scheme. But they also pulse in the foreground of a palpable here and now, in which people exult in the pleasures afforded the body, from lingering kisses to hard-eating clambakes.
The same is true of the other supporting humans in this unselfconsciously colorblind "Carousel," as vibrant a team of courters and sparkers as you could wish for. Lindsay Mendez and Alexander Gemignani turn in expertly crafted and beautifully sung performances as Carrie, Julie's best friend, and her fish-scented swain, Mr. Snow.
As Jigger Craigin, Billy's pal and nemesis, the ballet dancer Amar Ramasar makes an electric Broadway debut. Margaret Colin offers a razor-sharp take on toxic possessiveness as Billy's boss and older paramour. And the fabled opera star Renée Fleming is a delightful, refreshingly hedonistic Cousin Nettie. (Oh, she can sing, too, and makes fine, purifying work of that enduring sentimental war horse "You'll Never Walk Alone.")
It is gloriously clear throughout that what animates these disparate souls, who wear Ann Roth's handsome period costumes as easily as if they were track suits, is the mating instinct. What's bustin' out all over in June, to crib from the show's sunniest set piece, is sex. And Mr. Peck, the resident choreographer of New York City Ballet, has channeled that urge into some of the most thrilling and original dancing seen on Broadway in years.
That includes, as you might expect, the opening fairground number, in which dancers become both the horses and riders of the titular carousel, and that spirited serenade to the merry month of June, in which lust seems to spread across the stage like an epidemic.
But Mr. Peck's great choreographic coup comes, unexpectedly and exhilaratingly, toward the end of the first act with, of all things, "Blow High, Blow Low." That's the song with the repeated lyrics, "a-sailin' we will go," which usually comes across as a blustery, hokey ode to the maritime life.
But this production expands that number (with some artfully extended orchestral music) to become a display of hormonal energy run rampant. Led by Mr. Ramasar the male corps de ballet configures itself into a sea-ploughing boat, its industrious crew and, most dazzlingly, the very waves of the ocean.
In such moments, the performers become conduits for an irresistible life force, the same spirit that pushes Billy and Julie into each other's arms. Santo Loquasto's picturesque, deliberately artificial sets suggest that the world is but a provisional stage in a larger, more mysterious universe.
You either go with its natural flow, or you don't. And it is Billy and Julie's misfortune that they are opposites in this regard. Ms. Mueller (who won a Tony as Carole King in "Beautiful") uncannily combines strength and serenity, quiet joy and accepting sadness, qualities that flow through her liquid soprano. She is about as close to Zen incarnate as a down-home New England Christian gal can be.
In contrast, Mr. Henry ("Violet," "The Scottsboro Boys") portrays Billy as a figure of agitated, unceasing rebellion. He refuses to let himself relax into his genuine love for Julie. In the "Blow High, Blow Low" number, he's the dancer who can't find his feet.
Billy's great solo, "Soliloquy," performed with a heaven-rumbling voice by Mr. Henry, is a battle of conflicting feelings. You are always aware of this man's anger, and where it comes from.
That rage propels him to commit the crime in which he loses his life and, most notoriously, to hit Julie. This act of violence is not seen but described, and it is echoed in an awkwardly muffled encounter in the play's second act.
That's when Billy's ghost returns to earth years later to visit his unhappy teenage daughter, Louise (Brittany Pollack). The mother-daughter dialogue that falls so abrasively on contemporary ears — about it being possible to be hit loud and hard and "not hurt you at all" — is delivered quietly and unconvincingly, almost as if hoping to pass unnoticed.
A similar queasiness pervades much of the rest of the second act, especially in the scenes set in heaven, which looks like a rough draft of a starry paradise by Rockwell Kent, inhabited by angels who quaintly bring to mind arty Denishawn dancers of the early 20th century.
Even back on earth, Mr. Peck's usually sure hand feels a bit shaky. The danced sequence in which Louise is rejected by prim Maine society and seeks comfort with a vagabond fairground worker doesn't entirely track. (It was only then that I started to miss Agnes de Mille's more lucid story ballets for the original.) I always squirm through the undeserved uplift and optimism of the final scene, and this time was no different.
For its first two-thirds, though, this "Carousel" tingles with the rapture of life in all its contradictions. And the chemistry between this show's leading, mismatched couple is so charged, that when tree blossoms fall mysteriously over their first meeting on a windless night, it makes perfect sense.
The real spinning carousel in this production is love. That, for better and worse, is what makes nature churn — and the world go round — in this show's blissful, anguished universe.